Overhead
Conveyors
Divya overhead conveyors gives a resourceful solution to complex problems in manufacturing, assembling, packing & distribution. These conveyors have been solving material handling problems across many industries for many years.
Divya offers overhead conveyors of 2 type
Main components of a conveyor are.
Straight Track
Horizontal & Vertical Bends
Drive Units
Chain (Three Wheel / Four Wheel)
Take up Unit
Lubricators
Carriers like Clevis, Hanger etc.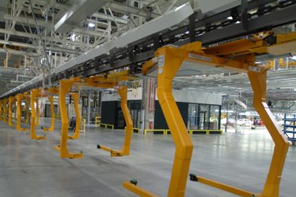 Divya overhead conveyors have been effective solving material handling problems because of the following specialities.
Cost effective & economical
Compact Design
Flexibility as per site & requirement
Quick & sound free operation that does not disturb the work enviorment.
Long lengths as required by the customers available.
Divya TRAC-O-Veyors are widely used in
Tea processing
Automobiles
Fans & other assembliy units
Painting Plant
Foundries.
And may many more