Powder
Coating booth & Plants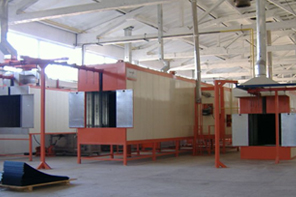 Powder coating plant consists of a powder coating booth, cyclone, baking oven & conveyor.
Powder coating is one of the most popular styles of industrial painting. We manufacture these plants with superior quality raw materials and advanced technology so that the plant lasts long and gives excellent & economic finish. Divya powder coating booths have the following advantages.
Powder Coating Booths May be of two types
(1) Batch type:- For Production different size of items.
(2) Convyorised:- For continuous automatic productions.

Enonomical
Manufactured with best raw materials.
Advanced technology
Enviornment friendly
Better recovery of powder
Excellent finish